Charitable competition happens at Algonquin Theatre on Feb. 11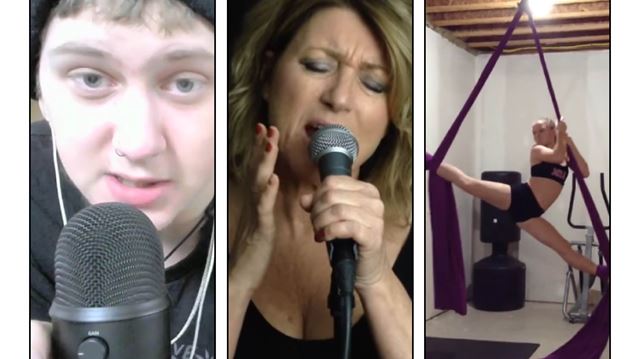 HUNTSVILLE'S GOT TALENT
drdrew.ca/photos
JMC (left), Rebecca Pascall and Maddy Arsenault are just three of the 22 Huntsville residents that submitted video nominations for the first-place prize for Huntsville's Got Talent. A broad ranges of styles and ages were included in the submissions.
HUNTSVILLE — Twelve talented hopefuls are about to go head-to-head at the Algonquin Theatre for the first Huntsville's Got Talent.
Dr. Drew Markham, event creator, said he wanted to adapt parts of television shows such as America's Got Talent and The Voice into a fundraising event for Huntsville since Huntsville Makeover, his former community event, ended in 2013.
"Huntsville is well known for having a lot of talent," said Markham.
Nominations opened in November. Judges have since shortlisted 10 amateur finalists from 22 video submissions. Another two finalists will fill people's choice wild card spots by Jan. 25.
"Everyone's ability was awesome."
Markham said many of the submissions showcased a broad range of vocal talent, including pop, barbershop quartet, opera, rap and country, with a few nominees performing original compositions and playing accompanying instruments.

There were also tap and acro dance, aerial hoop and silks, and Broadway submissions.

"With any competition, it is always very difficult for those who don't advance to the next round," said Markham. "I know there were a number of people that put themselves out there and maybe went outside their comfort zone, which I completely appreciate. But everyone's ability was awesome."

He said the judges' task was difficult.

Finalists hit the stage Saturday, Feb. 11, at the theatre, 37 Main St. E., at 7 p.m. Tickets are $20 with proceeds to Community Living Huntsville.

Official judges for the night tentatively include Markham, Huntsville Mayor Scott Aitchison, Huntsville-based producer Andre Wahl and Muskoka Dance Academy director Sue Kirwin-Campbell.

First prize is $1,000, plus a trophy, second prize is $250 and third prize is $100.

"On a Saturday night in February leading up to Valentine's Day, it will be a very feel-good evening for people that enjoy talent," said Markham. "And on top of the pure entertainment that we expect it will provide, all of our ticket sales are going to Community Living and people can feel good about that, too."

Visit Huntsville's Got Talent on Facebook for more information. Or visit the Huntsville's Got Talent tab on Dr. Drew Markham Dentistry's website at drdrew.ca for contest criteria and finalist videos.

Huntsville Forester

Previous Post | Next Post